Inside our delicatessen the guests can buy typical Tuscan products, of a precious and niches Tuscany, selected with care form the latest artisans and local producers.
You will find precious Tuscan sausages and hams, foodstuffs in oil, sauces and high quality chocolate; most of them are produced by the organic farm rules.
We also have a rich wine house with many kind of wine by measure and lots of fine tuscan wine's labels.
Some products you will find
Wines
Many kind of wine by measure and over 200 labels (Chianti D.O.C., Vermentino, Morellino, Brunello and the most celebrated Tuscan wines). Grappa, Vin Santo (sweet white raisin wine), rhum, champagne and prosecco.
Sausages
Wide choice of salami, from typical Tuscan salami to products of Cinta Senese, Pratomagno's ham and game or truffle sausages.
Pasta
Homemade pasta with wheat germ, with egg or flavoured (lemon, garlic & basil, hot pepper, Porcino mushroom, salmon, etc.)
Typical Tuscan Cheeses
Raw milk Pecorino of many ages.
Sauces and Foodstuffs in oil
Game sauces, with truffle, typical Tuscan canapé sauce, pesto, Bronte's pistachio nut, mustards and lots of products in oil from organic farming.
Chocolate and Typical cakes
Rich selection of quality chocolate like Amedei, Catinari, Venchi and typicalcakes like Cantuccini, "torta co' bischeri", Pistocchi's cake, jams and honey.
Coeliac Food
You can find sausages and sauces without gluten and milk sugar.
Gift Packages
We make tasteful gift packages, according to every single guest requirements, with our fine products like wine, salami, cheese, pasta and chocolate.
More information about our gift packages:
- write to info@ilbottegaiotuscany.it
- call 050798085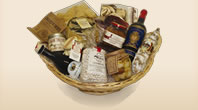 Centri commerciali naturali del Monte Pisano